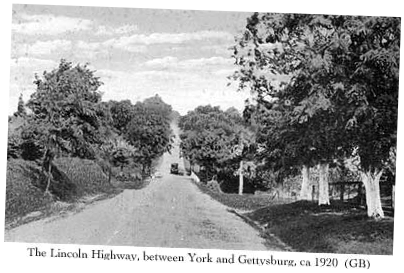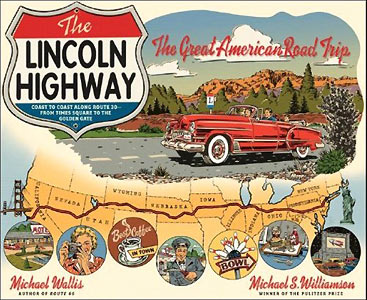 A few months back, with a bad case of insomnia, I was flipping around the channels around 3 am and landed on some obscure channel and a documentary about The Lincoln Highway. I had never heard of it before, but it was the first road that ran coast to coast -- from New York City to San Francisco. It was first opened in 1913, and you can imagine the commerce it brought to towns and cities along its route.
It was fascinating -- I'd never heard of it -- and there are whole groups of Lincoln Highway clubs that try to travel the whole route, or what's left of it since some parts no longer exist.
As I was driving to Shanksville the other day, I found myself on the actual Lincoln Highway. It was exciting and if (or I should say
when
)I make this trip again, there's another whole section of the Lincoln Highway which I pass. Might be fun to do that. On the short part of it I was on, there are Lincoln Highway markers every 1/4 mile or so.
By the way, the Lincoln Highway was the first national tribute to Abraham Lincoln, even pre-dating the Lincoln Memorial in Washington DC.
If you want to know more, check out the website of the
Lincoln Highway Association.
They even have an annual convention!
The documentary ended in New York City -- at 42nd and Broadway which was the official terminus (does that mean beginning AND ending?) of the Lincoln Highway. In this documentary, at the time it was made, an effort was in place to have some sort of marker to commemorate the highway. If you find yourself at 42nd and Broadway, take a look to see if you can find it. Don't know if they were successful.
PS: I answer my own question. Yes, the Lincoln Highway folks were successful so look for the sign in Times Square. This is from the New York Times on February 14, 2009:
On Thursday, the 200th anniversary of the birth of Abraham Lincoln, Mayor Michael R. Bloomberg and Transportation Commissioner Janette Sadik-Khan unveiled a sign at 42nd Street and Broadway formally marking Times Square as the eastern terminus of the Lincoln Highway.

"As a wonderful tribute to the bicentennial of Lincoln's birthday, we have placed a historic marker to celebrate the construction of our nation's first transcontinental highway," Mayor Bloomberg said. "It memorializes Times Square's connection with the route's storied history, and reminds all of us that New York City remains the gateway to the rest of America."